Command
Changes to the password policy
Effective: 2023-04-19
To better align with industry best-practices, the Agent Web Console password policy is changing. The required changes are:
The total number of required characters for a password has increased from seven to eight.

Passwords are required to have one of each of the following: a lowercase letter, an uppercase letter, a number, and a special character.

The minimum password reuse cycle has increased from nine to ten and minimum attempts before a lockout has decreased from six to five.
Forced password resets are not required. The updated requirements take effect when updating your password policy, when expired passwords need to be updated, or when a new account is created.
All Ekata callouts now use the same address data
Effective: 2023-04-19
You can make callouts to Ekata by using the rules created during the initial Risk Inquiry Service (RIS) call or by using the manual submission Ekata page in the Agent Web Console. Address data sometimes did not match when using the Ekata manual submission.
The address data is now the same with either submission method.
For more details, refer to How to Implement Ekata Data in Kount Command.
Control
New List Type option "Text"
​​Effective: 2023-04-27​
The List Type condition "Text" provides a new method of creating and referencing lists. You can create a single list using multiple types of data and refer to it with multiple conditions. This fixes the limitations of the old list method that did not allow using more than one data set.
The new "Text" list type replaces the following legacy options:
IP Registering Org

Username

User ID
The new list type options are Device Country, Device ID, Text, User IP Address, and User Type.

For details about how to create lists, refer to ​How to Manage Lists in Kount Control​​.
New drop-down dashboard selector with additional New Account Opening option
​
​Effective: 2023-04-25​
​
The original dashboard tabs — Logins, Failed Attempts, and Exports — have been moved into a new drop-down menu. Along with the drop-down menu, the New Account Opening (NAO) dashboard has been added.
The NAO section provides you with new ways to organize and view data related to new account openings.
Dashboard selector before:

Dashboard selector after: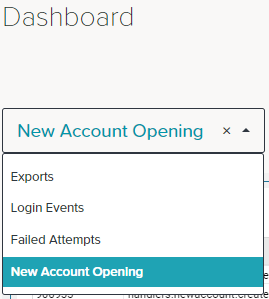 For more details about navigating the dashboard or NAO, refer to ​How to Navigate the Kount Control Dashboard​ and ​New Account Opening Profiles and Policies​​.
Updated TOR detection
Effective: 2023-03-22
TOR detection now looks for additional data points to confirm if traffic is coming from the TOR network. This improves TOR detection by approximately 20%.
For more details on Control conditions, refer to Kount Control Profile and Policy Conditions.
Updated IP Risk

Effective: 2023-03-22
IP Risk now includes data from proxy piercing. If a proxy is pierced, we now look to high-risk attributes of the pierced proxy and identify them as a High risk IP address.
For more details on Control conditions, refer to Kount Control Profile and Policy Conditions.