Admin and Manager users may access this feature to change the manner in which workflow settings behave.
The Queue Options page in the Agent Web Console (AWC) allows you to gain greater control over the Workflow settings that manage Transaction Age and Rescoring.
For instance, you can adjust the length of time a transaction to remain in the Workflow queue, and determine if a transaction will be re-scored depending on various circumstances. You can also enable or disable the Auto Agent feature and enable Queue Assignment, including setting the Queue Escalation age in hours and selecting the Queue Sorting Date Field.
To reach the Queue Options page, from the main menu in the AWC, click Workflow, and under Settings, click Queue Options.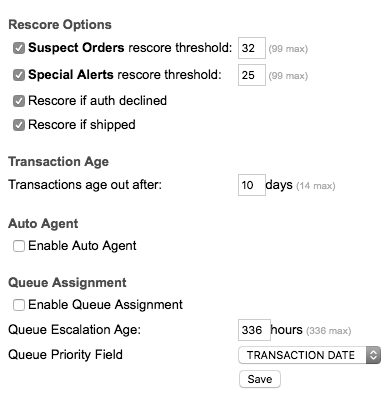 As you can see, the tools available on the Queue Options page allow you to enable a great deal of powerful functionality within your Workflow queue. Contact your Client Success Manager to discuss how to configure these settings to best meet your business needs.
Only Admin and Manager users have access to, and can make modifications on any of the Settings pages.