Occasionally, customer implementation choices or customer business practices can lead to transactions erroneously linking into a Persona, resulting in artificially elevated Kount Scores. In order to provide customers with flexibility, and to help prevent false linking, Kount supports customer specific Persona Exclusions.
Creating Persona Exclusions
Using the Agent Web Console (AWC), users with permissions of Admin or Risk Editor can define data values that, if present in a transaction, should not cause the transaction to link. For example, the Kount Persona technology normally links transactions together if they contain the same email address. Kount recommends that customers use the value noemail@Kount.com if an end-user email is not available, but some customers use their own custom "dummy" email address.
With the Persona Exclusions feature, the customer can now add their "dummy" email address to a Persona Exclusion so that transactions with this address will not link together. Other linking attributes that can be added to the Persona Exclusions include IP Address (to prevent linking on Device ID), Billing Address, and ANID (for phone orders).
Persona Exclusions can be configured by an Admin or Risk Editor in the AWC under Persona Exclusions.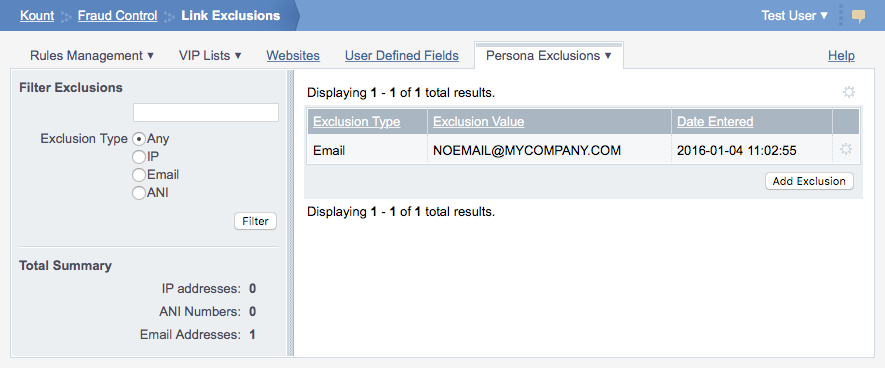 If a transaction contains data elements that are in the Persona Exclusions, the details are listed in the Persona Exclusions gadget located in the sidebar on the Transaction Details page.
Note: The Persona Exclusions feature is not a replacement for VIP lists and is meant to be used sparingly. Overuse of this feature could adversely impact the Kount Score.