The Device Fingerprint is a calculated value derived from the various device layers associated with the physical device used when placing an order on a merchant's website. If Kount is able to get device data via the Device Data Collector that exists in the source code of your website's checkout page, then a Device Fingerprint will be created. If the customer has disabled our ability to collect device data, or if the source code is not implemented properly, then no device data will be collected.
The Device Fingerprint is the same thing as the Device ID, which can be added to a VIP whitelist or blacklist. The mathematical equation used to create the fingerprint analyzes each layer and calculates the fingerprint which can then be utilized with Persona technology and Order Linking.
You can see if device data has been collected on an order by looking at the Collector field in the Last Risk Evaluation Gadget on the Transaction Details page, where Y=Yes and N=No.

You can also look at an entire list of orders on the Suspect Orders page, and the Device Data Collector information is listed in the KAPT column.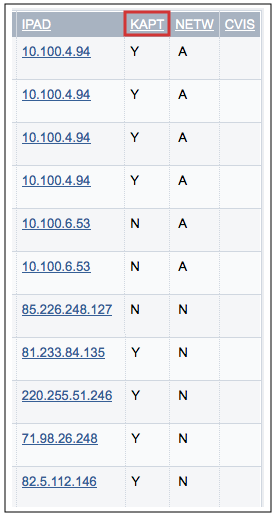 NOTE: Columns on the Suspect Orders page are added and removed dynamically, so your configuration may not include the KAPT column.