IP and Region Login Whitelist is available as an optional feature for enhanced security in the Agent Web Console (AWC). The feature must first be enabled by a Customer Success Manager, and then configured by a user with Admin permissions in the AWC.
Once IP and Region Login Whitelist is enabled, it must be configured in the AWC by a user with Admin permissions. The feature is accessed in the AWC under the Admin menu item. On the Manage Whitelists page, there are separate configuration areas for:
IP Address Whitelist
IP Address Range Whitelist
IP Country Whitelist
Each section can be activated or deactivated and act independently of one another.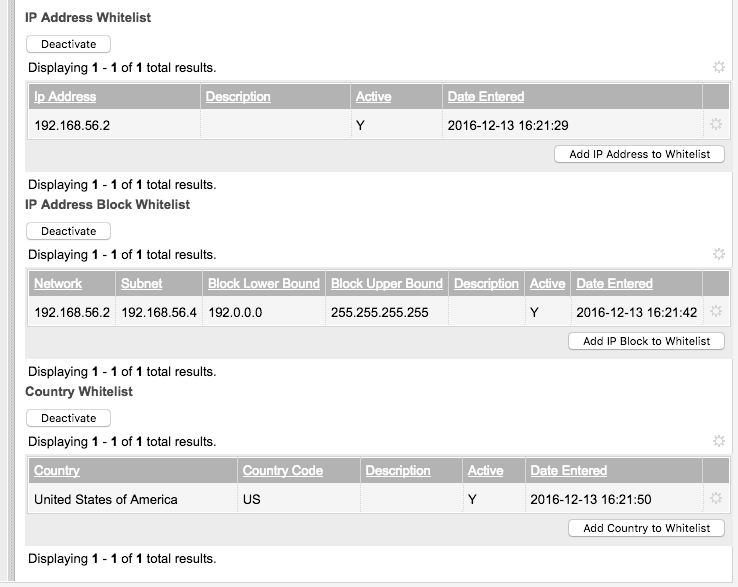 Once set up, AWC users can only login to the AWC if their IP address or IP address range matches the criteria defined on this page. If a valid user attempts to login from an IP not configured on this page, they will be denied access. For example, if their IP address is on the IP Address Whitelist, or in a range of IP Addresses, or if their IP address is located within a country defined.
For individual IP addresses, add them in the IP Address Whitelist section.
If you want to add all or part of your company's IP network using your IP network address and subnet mask, use the IP Address Range Whitelist.
Note: Subnet masks need to be configured by an IT professional familiar with networking. If you want to use this option, consult your IT department or contact your Customer Success Manager for assistance.
For more information about configuring IP Address Ranges, see Configuring IP Address Range Whitelist Networks.
If you want to whitelist the country in which your business operates, use the Country Whitelist second. The default setting is the United States of America.