Our merchants are able to write rules around Melissa Data Validation Codes. The following process applies when writing Shipping Address and Billing Address validation rules.
For verification of which Validation Codes are triggering, locate the Billing/Shipping address in a transaction and expand +more data. The codes display in Notes.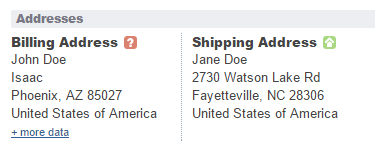 Under Order, select the Shipping Address Validation checkbox.

Select which decision you want to be applied when a rule is triggered (A, D, E, R).

Select which Melissa Data Reason Codes you want on this rule.

Deselect the Disabled checkbox.

Write a Rule Description for the newly created rule.

Select Create Rule.

Save the Rule Set and Activate.