The rules engine gives customers the option to add rules to groups, useful for keeping similar rules together while viewing or editing. To create and add groups to rule sets, do the following:
1. Navigate to a rule set, and click Manage Groups under More Options on the left side of the page.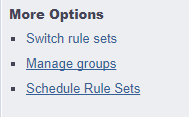 2. Click Add Group.
3. Give the group a unique name, and then click Create Group.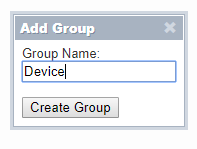 4. Click Return to Rules. Return to this page to edit groups at any time.
5. Select the rules to be added to the new group by checking the check boxes to the left of the rule name.

6. At the bottom of the page, locate the Choose drop-down, select Move to Group, select the appropriate group, and then click Move.

The selected rules now appear as part of the new group.

7. Save the changes to the rules set. Once changes are saved, sort the list by clicking the Groups header and filter the rules by group within the rule set.